Stonehenge Health Dynamic Krill Oil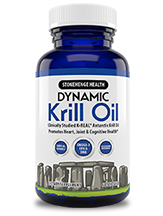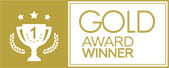 PROS
1,600 mg Clinically Studied Pure Antarctic Krill Oil with 174 mg of EPA & 120 mg of DHA
550 mg of Phospholipids
2 mg of Astaxanthin
Non-GMO, Gluten Free, & Antibiotic Free, No artificial ingredients or fillers
Easy to Swallow Lemon Oil Coated Softgels
Verified 90-day 100% money-back return policy
CONS
Often out of stock due to high demand
Why We Chose It
Stonehenge Health's Dynamic Krill Oil is Review Scout's top choice. This formula uses a high-quality and clinically studied form of krill oil. We were impressed with the potency of each dose being 1,600 mg of krill oil with 550 mg of phospholipids, 174 mg of EPA, and 120 mg of DHA.
In reviewing dozens of krill oil brands, we found that most offer a minimal amount of the powerful antioxidant astaxanthin. Stonehenge Health had the highest amount of astaxanthin we came across with 2 mg, the equivalent of 2,000 mcg.
Krill oil is very susceptible to spoilage and deterioration, which is why, much like fish oil, lower quality products have a foul odor, indicating spoilage. Stonehenge Health's Dynamic Krill Oil goes through a patented MSO™ Multi-Stage Oil Extraction Process, which ensures the highest quality and stability. This process allows their formula to have the least odor and highest phospholipid, EPA, DHA, and astaxanthin levels of all the products we reviewed.
We were able to verify that Stonehenge Health's formula does not contain any synthetic fillers or artificial ingredients, is non-GMO, and free of gluten, soy, and preservatives. Stonehenge Health backs its products with a no-questions-asked, 90-day money-back guarantee and is one of the few brands to be endorsed by a board-certified doctor. We also like that they offer customers discounts on bundles. Click on the link below to see their current specials.
*Results are based on user-generated experiences with these products, and individual results may vary. Please refer to the manufacturer's product website for detailed information.