Align Probiotic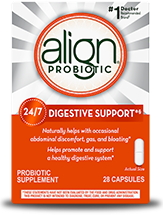 PROS
Contains one out of our top-6 strains
Vegetarian Capsules, Gluten and Soy Free
CONS
Only contains one clinically studied strain
Limited potency of only 1 Billion CFUs
Contains several unhealthy additives and fillers
Does not contain prebiotics
Limited 60-Day return policy
Why We Chose It
Align Probiotic is a popular product thanks in part to their heavy television advertising. The formula contains a single clinically studied strain, Bifidobacterium Longum 35624™, formerly known as Bifidobacterium infantis or Bifantis. It has a limited potency of only 1 Billion CFUs per dose.
While we liked that this formula contains the strain B. Longum, one of our top-6 recommended strains, it is crucial to have a diverse array of strains. And so, we were disappointed to see Align was missing L. Gasseri, L. Rhamnosus, L. Reuteri, L. Acidophilus, and B. Bifidum. It also does not have any prebiotics, which is essential to aid the growth and survivability of probiotics in the gut.
Align's inclusion of undesirable and potentially harmful additives in the product is an area of concern. One additive in specific, Titanium Dioxide, which makes their capsule a bright white color, is viewed as safe by the FDA but the European Union recently banned it. The EU's research has shown it may be a harmful carcinogen. Other additives include sucrose (sugar), propyl gallate, and gellan gum, which can cause gastrointestinal distress. This product also contains milk, eliminating those who are lactose intolerant. The return policy for Align Probiotics is limited to 60-days and is provided via a pre-paid card with funds that expire in six months, which is not as convenient as simply a refund to your credit card.
*Results are based on user-generated experiences with these products, and individual results may vary. Please refer to the manufacturer's product website for detailed information.