Youtheory Turmeric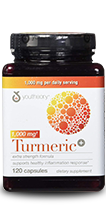 Pros
1,000 mg of Turmeric Curcumin C3 Complex with standardized 95% curcuminoids
10 mg of BioPerine®
Vegetarian Capsules
Dairy, Soy, and Gluten-Free
Cons
Lower than an optimal amount of Turmeric
Does not contain Ginger
Consumer complaints of digestive discomfort
Return Policy Limited To Point of Purchase
Not endorsed by an MD
Why We Chose It
Youtheory Turmeric Extra Strength is a popular brand that provides 1,000 mg per serving of
turmeric standardized to 95% curcumin using C3 Reduct®. This form of turmeric is said to
enhance the bioavailability, but there are insufficient studies to make a precise determination.
The product does contain 10 mg of BioPerine® to aid in the absorption. When comparing to the
top-ranked brand on our list, Youthery's amount of turmeric and BioPerine® included falls a bit
short. Also, there is no inclusion of Ginger in this Tumeric formula, which could account for
some of Youthery's user complaints related to digestive discomfort. Youtheory does not offer
any product guarantee or return policy on their website.
*Results are based on user-generated experiences with these products, and individual results may vary. Please refer to the manufacturer's product website for detailed information.