LivOn Laboratories Lypo–Spheric Vitamin C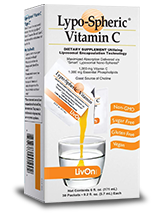 Pros
Liposomal Technology
Contains Phosphatidylcholine
Potent 2,000 mg daily dose
Non-GMO, no Gluten, dairy, sugar, artificial ingredients, or fillers
Lifetime return policy
Cons
Very expensive
Made from Soy Lecithin
Not appropriate for those limiting their salt intake
Requires to be mixed with water
User complaints related to product taste, headaches & digestive discomfort
Why We Chose It
LivOn Laboratories Lypo–Spheric® Vitamin C is a quality liposomal product that uses a patented delivery system. The product contains a daily dose of 1,000 mg of vitamin C and 1,000 mg of phosphatidylcholine. While we were happy to see that LivOn Laboratories uses phosphatidylcholine as its phospholipid source, we were disappointed to see that it is sourced from soy lecithin. The company states that the soy is non-GMO, but it still may not be suitable for those who have soy allergies or trying to eliminate soy from their diets.
The product comes in individual serving packets containing a gel that needs to be squeezed into cold water. The gel does not dissolve, and users have complained it tastes like salty Vaseline. The salt taste likely comes from LivOn's uses of sodium ascorbate, a form of ascorbic acid. Some feel that sodium ascorbate can reduce the acidity of vitamin C. However, it may not be appropriate for users who are needing to reduce or eliminate salt from their diet. LivOn Laboratories ingredients come in at a close second to the top-ranked brand on our list.
*Results are based on user-generated experiences with these products, and individual results may vary. Please refer to the manufacturer's product website for detailed information.