Nervive Nerve Relief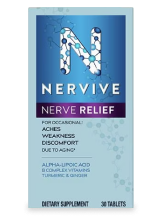 PROS
Contains clinical dosage of ALA
Only 1 capsule per serving
CONS
Does not contain PEA
Does not contain Boswellia Serrata
Does not use Benfotiamine form of Vitamin B1
Does not use Methylcobalamin form of Vitamin B12
Uses unnatural additives
No information on return policy
Why We Chose It
Nervive Nerve Relief has become a trendy product due partly to this brand's aggressive television advertising budgets. Initially, we were impressed that Nervive contains 600 mg of standard Alpha Lipoic Acid (ALA) and three different forms of B vitamins. Upon closer inspection, it became evident that the brand has a lower selling price thanks to its considerably cheaper, less bioavailable, and less effective forms in Cyanocobalamin instead of Methylcobalamin and Thiamine instead of Benfotiamine.
Nervive also lacks the critical ingredients PEA and Boswellia Serrata. Then again, television advertising is costly, and they need to cut costs where possible to keep the advertising going. Consumers have complained about dizziness and burning sensations when taking the product. We were not thrilled that Nervive contains low-quality and unnatural additives like FD&C Blue No.2 Aluminum Lake.
Information on Nervive's return policy was not readily available on their website.
*Results are based on user-generated experiences with these products, and individual results may vary. Please refer to the manufacturer's product website for detailed information.