Garden of Life Turmeric Gummy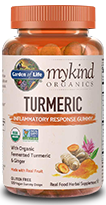 Pros
254 mg of Certified Organic Turmeric Blend in Gummy Form
50 mg of Organic Fermented Ginger Root
Cons
Contains 7 grams of sugar per serving
Limited 30-day Return Policy
Why We Chose It
Garden of Life mykind Organics is capitalizing on the popularity of gummy vitamins with their turmeric
supplement. While these gummies have garnered positive reviews for being tasty, they pack 7 grams of
sugar per serving, which may not be appropriate for those watching their blood sugar levels or other
health-conscious consumers. It is good to see certified organic turmeric in this formula, but the dosage
offered per serving is very low at only 254 mg per serving. Similarly, we were pleased to see they
included ginger, but at only 50 mg per serving, it is considerably less than the top-rated brand on our
list. Garden of Life backs their product with a very limited 30-day refund period.
*Results are based on user-generated experiences with these products, and individual results may vary. Please refer to the manufacturer's product website for detailed information.