StriVectin Advanced Retinol Intensive Night Moisturizer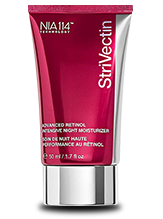 Pros
Includes Retinol, Peptides, Hyaluronic Acid and Niacinamide
Includes super-antioxidant Resveratrol
Formulated by reputable skin care company
No harmful ingredients
Cons
Expensive Product Price
Limited 30-day 100% money-back return policy
Why We Chose It
StriVectin's Advanced Retinol Intensive Night Moisturizer is Review Scout's top choice. It's an anti-aging night treatment with Retinol, Peptides, antioxidants, and hydrating agents Hyaluronic Acid for all skin types. This formula also contains StriVectin's NIA-114™ technology, a patented molecule that delivers Niacinamide to deeper layers of the skin.
We were impressed that StriVectin included Resveratrol, a powerful antioxidant which studies have shown to protect the skin from free radical damage, reduce discoloration, and improves overall texture.
According to StriVectin's consumer review study, this night cream boasts an overwhelmingly positive user experience, with 83% of users reporting firmer, more radiant skin, and 94% reporting smoother texture after four weeks.
While StriVectin has some solid ingredients, it comes at a pretty steep price of $80 for 1 oz. We also were left feeling a bit underwhelmed by the brands' limited 30-day money-back guarantee.
*Results are based on user-generated experiences with these products, and individual results may vary. Please refer to the manufacturer's product website for detailed information.