American Health Ester-C®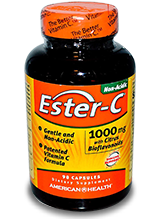 Pros
1,000 mg daily dose
Vitamin C as Ester-C®
Contains Bioflavonoids
Vegetarian capsules, Non-GMO, and gluten-free
Cons
Lower than an optimal amount of vitamin C
Contains Gelatin
Large capsules are difficult to swallow
Quality concerns regarding empty capsules
Return policy limited to point of purchase
Why We Chose It
American Health's vitamin C uses Ester-C® with added citrus bioflavonoids. The daily dose is 1,000 mg, which is a bit lower than our recommended 1,500 mg dose. This formula uses Ester-C® , which is calcium added to ascorbic acid to help to reduce the acidic feeling some users experience when taking basic ascorbic acid. Various manufacturers claim that Ester-C® offers better absorption, but to date, there is no reliable evidence to support this claim. American Health also uses bioflavonoids to claim better absorption. However, as we previously noted, there is a lack of scientific evidence backing marketing claims regarding bioflavonoids and absorption.
Consumers have voiced concerns about receiving bottles with some capsules either unfilled or only partially filled. Additionally, some users have found that the large 1,000 mg capsule is too difficult to swallow. Lastly, American Health does not offer any product guarantee or return policy on their website.
*Results are based on user-generated experiences with these products, and individual results may vary. Please refer to the manufacturer's product website for detailed information.