Doctor's Best Curcumin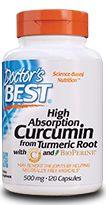 Pros
1,000 mg of Turmeric Curcumin C3 Complex standardized 95% curcuminoids
6 mg of BioPerine®
Non-GMO, Soy and Gluten-Free
Cons
Lower than the optimal amount of Turmeric
Does not contain Ginger
Not Vegetarian Safe
Return Policy Limited To Point of Purchase
Why We Chose It
Doctor's Best provides 1,000 mg per serving of Turmeric standardized to 95% curcumin using C3
Complex. The product contains a lower than optimal amount of Turmeric. While the formula
does include BioPerine® to aid absorption, it is just 6 mg per serving. Doctor's Best also chose
not to include Ginger in their formula. Doctor's Best Turmeric is made with gelatin capsules
making it not appropriate for vegetarians or other health-conscious consumers. The brand does
not have a consumer return policy listed on its website. If you buy a Doctor's Best product, you
are limited to the retailer's return policy, typically just 30-days.
*Results are based on user-generated experiences with these products, and individual results may vary. Please refer to the manufacturer's product website for detailed information.