OmegaXL by Great Health Works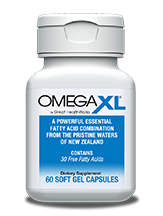 Pros
Patented omega-3 green-lipped mussel
Contains natural olive oil and vitamin E
Cons
Require 8 capsules daily to match the amount used in studies
Triglyceride bound omega-3 has much lower absorption
Many consumer complaints regarding difficulty canceling the required monthly auto-ship program.
Why We Chose It
Made famous by their paid celebrity endorser, Larry King, Omega XL uses a patented green lipid mussel as its source of omega-3. A dive into the clinical research reveals that a daily serving of Omega XL has 2 capsules, which only contains a meager 32 mg of EPA and 39 mg of DHA. Compare that to the top-rated brand, which has 225 mg of EPA and 135 mg of EPA. The part that makes omega-3 essential is the EPA and DHA fatty acids. You would need to take 7 servings of Omega XL to march the EPA found in any of our top 3 rated brands. Add to the fact that they have many consumer complaints, and a limited return policy puts Omega XL at the bottom of our top 5 list.
*Results are based on user-generated experiences with these products, and individual results may vary. Please refer to the manufacturer's product website for detailed information.