Qunol Extra Strength Turmeric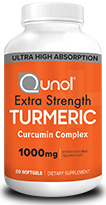 Pros
1,000 mg of Bioenhanced Turmeric Complex
Endorsed by a Doctor
Dairy, Wheat, and Soy-Free
Cons
Gelatin Softgels made from bovine (beef)
Does not include Ginger Root Extract
Does not contain BioPerine®
Limited 30-day return policy
Why We Chose It
Qunol's Extra Strength Turmeric contains 1000 mg of Turmeric, which the brand claims to be bio-
enhanced with water dispersion technology for superior absorption. While Qunol references a study
conducted showing it to have superior absorption over BioPerine®, more independent studies need to
be undertaken to support this claim further. This formula does not include any Ginger Root Extract to
aid in digestion. Qunol uses gelatin softgels made from bovine (beef), making it not appropriate for
vegetarians or other health-conscious consumers.
*Results are based on user-generated experiences with these products, and individual results may vary. Please refer to the manufacturer's product website for detailed information.