PUREHEALTH RESEARCH Nerve Regen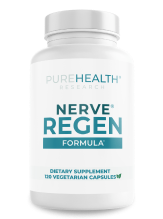 PROS
Contains two of the four essential ingredients: Vitamin B12 as Methylcobalamin and Vitamin B1 as Benfotiamine
CONS
Only 150 mg of standard ALA
Does not contain Boswellia Serrata Gum Resin Extract
Does not contain PEA
Requires 4 gelatin capsules per dosage
User complaints of heartburn
Why We Chose It
PUREHEALTH RESEARCH Nerve Regen has gained popularity through the company's use of heavy online advertising. We liked that this formula contains the exact same potent dosage of Benfotiamine and Methylcobalamin that the top-ranked product, Dynamic Nerve, does. However, aside from not including the essential ingredients PEA and Boswellia Serrata, Purehealth Research's formula only offers 150 mg of standard Alpha Lipoic Acid (ALA). That equates to 25% of the amount used in clinical studies.
This brand relies on including 150 mg of R-ALA, a different form of Alpha Lipoic Acid. The challenge with R-ALA is that, to date, no human clinical studies have demonstrated its effectiveness in supporting nerve health. Even when you combine this formula's ALA and R-ALA, it only equates to 300 mg, which is half the recommended 600 mg dose.
Like others on this list, Nerve Regen requires the user to take 4 capsules per serving. Consumers have complained about heartburn, potentially related to the various ingredients in this product's "proprietary blend." While we appreciate this brand's generous 1-year return policy, we imagine consumers will be using it, considering Nerve Regen's lack of potency and 4-pill per serving requirement.
*Results are based on user-generated experiences with these products, and individual results may vary. Please refer to the manufacturer's product website for detailed information.