Dr. Ohhira's Probiotics Original Formula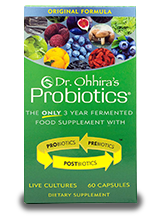 Pros
12 diverse strains
Includes a variety of prebiotics
Lists each strain's substrains
Cons
Does not list CFU count
Lacking key strains for immune support
Contains Soy
Very limited return policy
Why We Chose It
Dr. Ohhira's Probiotic formula took second place with 12 diverse strains in acid-resistant capsules wrapped in individual blister-packed servings. We were happy to see that Dr. Ohhira's includes natural prebiotics, minerals, and amino acids. And while the formulation does include strains known to support the immune system like L. rhamnosus or L. reuteri, a positive sign is that the product lists each strain's substrains. A notable concern is that Dr. Ohhira does not disclose the number of colony-forming units (CFUs), which is a key indicator of a probiotic's potency.
Be aware that Dr. Ohhira's Probiotic formula contains soy, which may not be suitable for those with allergies. We were disappointed to see that Dr. Ohhira offers an extremely limited return policy. You have only 30-days to evaluate the product, and if you are not satisfied, only new, unopened bottles can be returned for a refund. This is not a customer-focused policy and one you would not expect from a premium-priced brand. We prefer to see brands offer at least a 90-day unconditional money-back guarantee.*
*Results are based on user-generated experiences with these products, and individual results may vary. Please refer to the manufacturer's product website for detailed information.