Florastor Daily Probiotic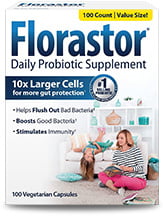 PROS
Contains clinically researched strain Saccharomyces boulardii lyo CNCM I-745
Vegetarian Capsules, Non-GMO, and Gluten Free
CONS
Only contains one clinically studied strain
Limited potency of 10 Billion CFUs
Contains dairy
Does not contain prebiotics
No company guarantee or return policy
Why We Chose It
Florastror is a yeast-based probiotic with one clinically studied strain, Saccharomyces boulardii lyo CNCM I-745. Each capsule of Florastor contains 250 mg, which is equivalent to 5 Billion CFUs. A single dose is two capsules, 500 mg, for 10 Billion CFUs.
Studies on CNCM I-745 indicated positive results, especially for addressing antibiotic-induced diarrhea, but used doses of three to four capsules per day. Florastor's suggested use is two capsules taken 1-2 times per day, a maximum of four capsules in a day, making a one-month supply of 60 to 120 capsules. Users have complained that Florastor only sells their product in 18, 20, 30, 50, and 100 counts, none of which is a one-month supply. This brand's 100-count package cost $62, making it one of the most expensive probiotics we have reviewed. But, if you take four capsules per day, this would be the cost equivalent of $74.40.
This formula lacks the benefit of a diversity of strains and the potency of higher CFU strength to address broader digestive health issues. A notable downside is that Florastor contains milk (lactose), eliminating those who are lactose intolerant. Reviews have been mixed from users, with some stating they did not get their desired results. Florastor does not have a guarantee policy listed on their site, leaving consumers to deal only with the refund/return policy from the retail store they purchased it in.
*Results are based on user-generated experiences with these products, and individual results may vary. Please refer to the manufacturer's product website for detailed information.