Garden of Life Elderberry Immune Gummy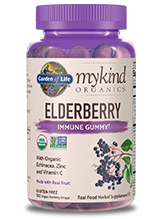 Pros
Certified organic ingredients
Good taste
Contains Elderberry, Echinacea, and Zinc
Cons
7 grams of sugar per serving
Proprietary Blend
Limited 14 Day money-back guarantee
Why We Chose It
Garden of Life Elderberry Immune Gummies is a popular immune support supplement with both adults and kids. These gummies are made with certified organic, non-GMO verified real fruit. Its primary immune-boosting ingredient is Black Elderberry concentrate and extract. Although it's 355mg dosage is substantial, the supporting ingredients are at insignificant levels. For instance, you'll find only 50 mg of Echinacea Root Extract and 100mg of Aronia Berry concentrate in this formulation.
Many users claim this product tastes good, commenting that they're as good as candy. On the bright side, the pleasing taste encourages people – especially kids, to take them every day. The problem is with the 7 grams of sugar in each serving. One week's dosage has the sugar equivalent of 2 1/2 Snickers bars. That's a lot of sugar! And something you should consider if you're keeping an eye on your weight. Finally, we were disappointed in Garden of Life's return policy. You have a mere 14 days from the day you purchase to return this product for a refund.
*Results are based on user-generated experiences with these products, and individual results may vary. Please refer to the manufacturer's product website for detailed information.