Just Thrive Probiotic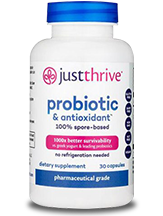 Pros
Highly robust strains likely to colonize
Probiotic strains support digestive health and biome balance
Lists each strain's substrains
Free of GMOs, soy, dairy, sugar, and gluten
Cons
No Prebiotic Fiber
Lacking key strains for immune support
Plastic bottle
Limited 30 Day return policy limited to two bottles
Why We Chose It
Just Thrive is a popular probiotic brand that took third place in our ranking. Although this formula has only 4 probiotic strains in 3 billion CFU's – unlike our top choice with 16 strains in 50 billion CFU's– it does include patented Bacillus Indicus HU36®. Studies show this strain produces antioxidants at the site of absorption. It's also highly robust and easily survives the journey through the digestive tract. Reviews have been mostly positive, but some users have complained that Just Thrive causes bowel movement issues like diarrhea.
We applaud Just Thrive's "Bottom of the Bottle" guarantee, which means you can use the entire product and still ask for a refund if you're unhappy. At the same time, we're disappointed that it's limited to a 30-day timeframe and only on two bottles. We prefer to see brands offer at least a 90-day unconditional money-back guarantee.*
*Results are based on user-generated experiences with these products, and individual results may vary. Please refer to the manufacturer's product website for detailed information.