Natures Bounty Probiotic 10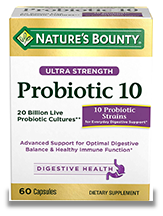 Pros
10 diverse strains
Includes Inulin prebiotic
Lists each strain's substrains
Cons
Low CFU count of 20 billion per serving
Requires refrigeration once opened
Contains Soy
Limited return policy
Why We Chose It
Nature's Bounty Probiotic 10 took second place with 10 diverse strains and 20 Billion CFUs. The product is popular in the market, with users giving it better than average reviews. We were happy to see that Probiotic 10 includes inulin prebiotics, and while the number of strains is lower than optimal, a positive sign is that the product does list each strain's substrain. A notable concern is that Probiotic 10's potency is on the low side with only 20 Billion CFUs.
Probiotic 10 contains soy, which may not be suitable for those who have allergies. A downside to this product is that once the bottle is opened, it must be refrigerated. This can be inconvenient and cause you to have less consistency in taking the probiotic daily. This product has a low price point, but if you consider that the CFU potency is less than half the recommended amount, you would need a larger supply to make up the difference. Probiotic 10 does not appear to be endorsed by a doctor specializing in digestive health.
*Results are based on user-generated experiences with these products, and individual results may vary. Please refer to the manufacturer's product website for detailed information.