Neuriva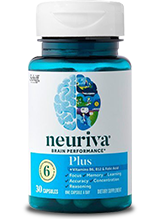 Pros
Contains Phosphatidylserine
Caffeine and GMO-Free
Cons
Does not contain Bacopa Monnieri or Huperzine A
User complaints related to headaches, sleep issues, and allergic reactions
Very expensive for minimal ingredients
Contains allergen Soy Lecithin
Limited 30-day return policy
Why We Chose It
Neuriva by Schiff Vitamins is a relatively new product intended to improve brain performance. Neuriva comes in "Original" and "Plus" formulas, containing Phosphatidylserine and Coffee Fruit Extract. The "Plus" formula adds vitamins B6, B12, and B9. However, neither version contains our top-ranking ingredients Bacopa Monnieri and Huperzine A, and the vital nutrient Choline. Neuriva's key ingredient, Coffee Fruit Extract (Coffee arabica), has only one study to its credit, suggesting it improves cognitive function. We prefer to see ingredients that have more substantial evidence to support memory and focus claims.
We were happy to see that Neuriva is both caffeine and GMO-free. However, allergic reactions have been reported since Neuriva contains soy lecithin and rice. Users have also reported having sleeping issues when taking this product. Neuriva provides a 30-day refund period, but that is only for unopened bottles, which is not much of a guarantee if you find that you're unhappy with the results.
*Results are based on user-generated experiences with these products, and individual results may vary. Please refer to the manufacturer's product website for detailed information.