Nufargo Berrymune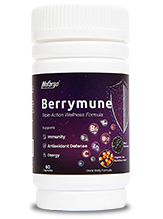 Pros
Includes Elderberry and Zinc
Doubles as a multivitamin
Boosts energy levels
Includes Tibetan Buckthorn
Cons
Magnesium Stearate and Silicon Dioxide
Proprietary Blend
Missing Echinacea, Garlic, and Probiotics
Gelatin Capsules – not vegan
Why We Chose It
Nufargos Berrymune contains two superfruit berry extracts – Elderberry and Tibetan Buchthorn – plus 11 vitamins and minerals to support your immune system. Nurfargo claims that this blend has antioxidant benefits that keep inflammation under control along with ingredients Elderberry Extract, Zinc, and Vitamin C to promote a healthy respiratory tract. Berrymune contains a high dosage of B vitamins to help boost your energy levels.
There were a few things that we found disappointing with Berrymune. First, they've hidden the amount of Elderberry Extract in a propriety blend, so there's no way of knowing how much of this proven herb is in the formula. Second, the supplements contain both Silicon Dioxide and Magnesium Stearate, two fillers that you should avoid. And finally, Nufargos only offers a limited 30-day return policy.
*Results are based on user-generated experiences with these products, and individual results may vary. Please refer to the manufacturer's product website for detailed information.