Provitalize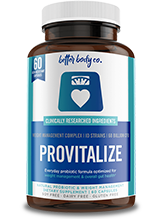 PROS
High CFU Count
Vegan-Friendly and GMO-Free
CONS
Limited probiotic strains
Very Expensive for Minimal Strain Diversity
Does Not contain Prebiotics
Plastic bottle
User complaints related to results not being achieved
Poor rating with the Better Business Bureau (BBB)
Why We Chose It
Provitalize by Better Body Co. suggests they can support digestive health, weight management, and the relief of hot flashes for menopausal women. While we liked that the product contains 68 Billion CFUs, we were disappointed to see no prebiotics and a lack of strain diversity.
Provitalize has three clinically studied strains, only one of which, L. Gasseri, is on our top-6 strains list. Compare that to the top-rated brand on our list, with 16 unique clinically studied strains, including all three of Provitalize's probiotic strains.
This brand uses a considerable amount of marketing hype and aggressive claims, along with their 41 complaints on Better Business Bureau (BBB), which gives us some pause for concern. While some users have reported benefits from taking Provitalize, we found a notable number of users who reported no results. We recommend avoiding brands with claims that seem too good to be true. Choose a formula with a variety of probiotic strains, including prebiotics, shown in studies to help support proper microbiome balance and digestive and immune system support.
*Results are based on user-generated experiences with these products, and individual results may vary. Please refer to the manufacturer's product website for detailed information.