Pure Synergy Rapid Rescue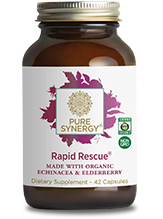 Pros
Contains Elderberry and Echinacea
90 Day money-back guarantee
Organic ingredients
Non-GMO, No Gluten, No dairy, Np sugar, No artificial ingredients
Cons
Missing Zinc, Garlic, and a Probiotic
Not a daily immune support supplement
Why We Chose It
Pure Synergy suggests you reach for Rapid Rescue as soon as you start feeling under the weather. Instead of a daily immune system support supplement, this product is marketed as a treatment that promises a fast-acting immune response if you find yourself becoming ill or are in the midst of an illness.
The ingredients in Synergy's formula have been shown to support its "rescue" claim. Elderberry is known to reduce the severity and duration of infections. Andrographis Extract is an immunostimulant for upper respiratory tract infections. 23 Echinacea purpurea Juice Extract is a particular ingredient shown in studies as being useful for the short-term treatment of cold infections and encouraging healthy throat, sinus, and repository health. Many of the comments from users support the claim that this product may help stop cold and flu symptoms from progressing.
The makers suggest taking two pills three times a day for one week. One bottle contains 42 capsules, suitable for one bout of cold or flu. Pure Synergy offers a generous 90 Day money-back guarantee.
*Results are based on user-generated experiences with these products, and individual results may vary. Please refer to the manufacturer's product website for detailed information.