Renew Life Extra Care Probiotics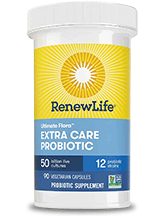 PROS
12 Diverse Probiotic Strains
50 Billion CFUs
Clinically Studied sub-strains listed on the label
Vegetarian capsule, Non-GMO, Gluten and Soy Free
CONS
Only includes 2 of the Top-6 Strains
Does not include any Prebiotics
Plastic bottle instead of glass
User complaints new formula not as effective
Quality control concerns regarding some units lack safety seals
Limited return policy
Why We Chose It
Renew Life Extra Care Probiotics contains 12 varieties of strains and lists each substrain on the product label. We were happy to see that each dose is 50 billion CFUs but was disappointed that the formula lacked prebiotics.
While Renew Life has decent diversity of strains, it fell short of our recommended minimum of 14 strains. We were perplexed why this brand only included 2 of the top-6 strains, L. Rhamnosus and L. Acidophilus, leaving out the highly researched and effective L. Gasseri, L. Reuteri, B. Bifidum, and B. Longum.
This product comes in vegetarian capsules, great for health-conscious users. Still, the inclusion of medium-chain triglycerides in the formula may be the reason behind reports of digestive discomfort by some users. A common and growing complaint amongst other users is that a recent change in the formula has rendered the product less effective.
Renew Life offers a 60-day money-back guarantee, but we would have preferred to see a 90-day guarantee to allow more time for consumers to assess if it is right for them.
*Results are based on user-generated experiences with these products, and individual results may vary. Please refer to the manufacturer's product website for detailed information.