Source Naturals Wellness Formula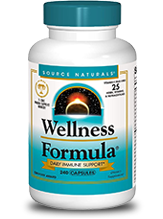 Pros
Contains Zinc, Elderberry, and Echinacea
Gluten-Free
Lists amounts for all 31 vitamins, nutrients, and minerals
Cons
Does not contain Glutamine
Does not contain Turmeric for Zinc absorption
Must take 6 gelatin pills per dose
Contains allergen Soy
User complaints of indigestion and heartburn
Return policy limited to point of purchase
Why We Chose It
Source Naturals is a popular brand, and their Wellness Formula has been sold for many years. This product contains thirty-one different vitamins, minerals, and nutrients, including zinc, elderberry, and echinacea. We were disappointed to see that with so many ingredients, the product was missing glutamine, critical to immune cells such as T-cells and B-cells, and a method to improve zinc absorption such as turmeric 95% curcumin.
While we applaud Source Naturals' desire to offer a wide variety of ingredients, it is relatively pointless since many consumers have complained it is too hard to consume the required daily dosage of 6 large gelatin capsules. Complaints of indigestion and heartburn may also be related to the large dosage requirement, the number of ingredients, and the use of gelatin capsules instead of consumer-preferred vegetarian capsules. Source Naturals website has no mention of any money-back guarantee, and so consumers are stuck relying on what may be a limited return policy from the point of purchase.
*Results are based on user-generated experiences with these products, and individual results may vary. Please refer to the manufacturer's product website for detailed information.