Stonehenge Health Dynamic Immunity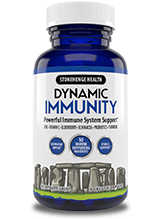 Pros
Includes Our Top 4 Ingredients – Elderberry, Echinacea, Zinc, Lactobacillus acidophilus Probiotic
Vegan with Vegetarian Capsule, Allergen Free, Antibiotic Free, Gluten Free, Sugar Free, Hormone Free, No Binders or Fillers
Endorsed by a Doctor
Plus 6 Addition Immune-Boosting Ingredients: Garlic, Vitamins C, B6, and E,
L-glutamine HCL, and Turmeric Curcumin
Can be used as both a Daily Immune Support Supplement and Rapid Response When Sick
Verified 90-day
100% money-back return policy
Cons
Often out of stock due to high demand
Why We Chose It
Stonehenge Health's Dynamic Immunity is Review Scout's number one choice for daily immune support supplement. In reviewing dozens of brands, we found that most include one or two of our top ingredients but rarely all four. This formula is a potent blend of 10 immune-boosting ingredients. The blend including our favorites: Elderberry, Echinacea, Zinc, and Lactobacillus acidophilus Probiotic, along with Garlic, Vitamins C, B6, and E, L-glutamine HCL, and Turmeric Curcumin.
We were impressed that Stonehenge Health chose to include probiotic strain Lactobacillus acidophilus, which you'll rarely find in an immune support supplement. Numerous studies show that this probiotic strain supports the immune system and helps reduce the risk of contracting a viral infection.
Dynamic Immunity's Elderberry Extract is super concentrated at a 10 to 1 ratio, meaning it's 300 mg dosage is equivalent to 3,000 mg of pure Elderberry. We also like that this blend uses Echinacea purpurea aerial. The aerial parts of Echinacea, meaning the leaves and flowers instead of the roots, contain higher concentrations of polysaccharides that are best for ongoing immune system support.
Rather than taking separate pills, we like that you get the benefits of all these bug fighting immune boosters in one easy to swallow supplement. This formula has the right combination of ingredients to help strengthen your immune system and support your body's ability to fight off infections quickly if you get sick.
We were able to verify that Stonehenge Health's formula does not contain any synthetic fillers, artificial ingredients, or sugars. Stonehenge Health backs all of its supplements with a no-questions-asked, 90-day money-back guarantee and is one of the few brands to be endorsed by a board-certified doctor. We also like that they offer customers discounts on bundles. Click on the link below to see their current specials.
*Results are based on user-generated experiences with these products, and individual results may vary. Please refer to the manufacturer's product website for detailed information.