Stonehenge Health Dynamic Mushrooms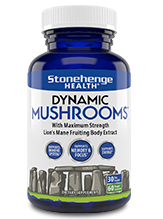 PROS
Lion's Mane, Chaga, Maitake, Reishi, & Shiitake
100% Fruiting Bodies & 1,400 mg Formula
Extracts with a Potent 4:1 Concentration
Endorsed by a Doctor
Vegetarian Capsules, Non-GMO, Gluten, Soy and Dairy Free
Verified 90-day 100% money-back return policy
CONS
Often out of stock due to high demand
Why We Chose It
Stonehenge Health's Dynamic Mushrooms is Review Scout's top choice. This supplement blends all five essential mushroom varieties, Lion's Mane, Chaga, Maitake, Reishi, and Shiitake, into one formula.
Dynamic Mushrooms uses 100% extracts with a potent 4:1 concentration, delivering a daily dose of 1,400 mg, the equivalent of approximately 5,600 mg of mushroom powder. Each mushroom in this formula is derived from a fruiting body that studies show have superior amounts of beta-glucans compared to mycelium. We were happy to see that their Lion's Mane mushroom 4:1 extract has a dosage of 1,000 mg, which exceeds our minimum recommended dosage of 750 mg. With the correct mushrooms at the proper dosages, Dynamic Mushrooms has what it takes to help support cognitive performance, a robust immune system, and other essential health benefits.
We were able to verify that Stonehenge Health's formula does not contain any fillers such as rice or oats commonly found in brands that use mycelium. It was also great to see that Dynamic Mushrooms is non-GMO and uses vegetarian capsules. Stonehenge Health backs its products with a no-questions-asked, 90-day money-back guarantee and is one of the few brands to be endorsed by a board-certified doctor. We also like that they offer customers discounts on bundles. Click on the link below to see their current specials.
*Results are based on user-generated experiences with these products, and individual results may vary. Please refer to the manufacturer's product website for detailed information.