Truvani Immune Support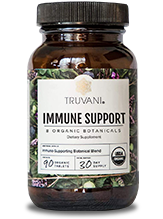 Pros
Contains Elderberry Extract, Echinacea, Garlic, and Astragalus
Non-GMO, gluten-free, soy-free, dairy-free, and vegan
Cons
Tablets instead of capsules
Does not include Zinc or a Probiotic
Limited 30 Day money-back guarantee
Why We Chose It
Truvani Immune Support is a quality supplement that promises to support your immune system's health while it helps your body respond if you do become sick. It includes two of our four favorite ingredients: Elderberry Extract and Echinacea. It's 300 mg dosage of Elderberry Extract is at a respectable 4 to 1 concentration ratio.
We like that Immune Support is made with organic real food ingredients that are third-party tested to ensure purity. Although this brand is missing Zinc and a probiotic, it does include Astragalus Root, a polysaccharide-rich herb native to China that supports respiratory health. 20
Truvani chose to make this supplement in tablet form instead of capsules. The problem with tablets is that they break down inconsistently in your body, decreasing absorption and overall effectiveness. Studies show that capsules have higher bioavailability than tablets, meaning more nutrients are likely to enter your bloodstream.21 Truvani allows only 30 days to return the product for a full refund.
*Results are based on user-generated experiences with these products, and individual results may vary. Please refer to the manufacturer's product website for detailed information.